follow the
MENU
column all the way down










IRONICON LINKS.


NEWS
UPDATES
8 June 2004
Heritage Victoria nomination of Stringybark Ck and Kellys Creek.



Kelly target tree log
recovered from Kelly Ck bog. 14 Jan 2004


NEW
TIME LINE
1860's to recent times.
Follow the key events leading to the shootout at Stringybark and up to the present day.
.

NEW
recent discovery,
photo of the chopped trees at the 1878 Kelly camp to recover fired bullet lead.
See story 8





NEW
The Kelly campfire
and bullet holed skull
See story 10






NEW, Ned Kelly Centre Glenrowan
See story 11



Proposed design
concept by
architect Penleigh Boyd and Bill Denheld .


MAIN STORY
INTRODUCTION



Two Huts at
Stringybark Creek.



A PROBLEM TO SOLVE


publications


ALL STORIES OVERVIEW
click here

STORY 1



The importance of the huts at Stringybark Ck.
The above powder flask
was found within one of the huts. floor plan.

STORY 2



One hut or two.
The hut site was marked on a 1884 survey map

STORY 3



Orientation of the Burman photo.
The police camp then and now.

STORY 4



Read how an 1878 photo
lead to finding the bush hut fireplaces.

STORY 5



A Kelly tree history.
The tree is 350 - 400 meters from where the original stood.

STORY 6



McIntyre's sketch and the Burman photos compared.

STORY 7



BLUE RANGE, crucial to the Kelly story?

STORY 8



The Bullets of Kellys Ck.
My story 1985

STORY 9



The Kelly hut on Bullock Creek may not have been the only hut.



The Kelly target tree was first made public by Bill Stewart 1985. Read about the Kelly tree on Kellys Creek.


STORY 10



Ned Kelly's death mask.
See it in true 3D
virtual reality.




The EK marked gun,




The Kelly camp fire.



STORY 11



The new proposed
Ned Kelly Centre at
Glenrowan by architect
Penleigh Boyd
and Bill Denheld


CONTACT ME direct




Bill Denheld,
amateur Kelly researcher

FEEDBACK
This is for your input.
If you like this website please feel free to let me know your thoughts, ideas, and contributions.
All views considered, answered and published.


Updated, 14 Dec 2012
Where did Sergeant Kennedy die ?
Was it along STRINGY-BARK or GERMANS CREEK ?
Germans Creek runs between Stringybark and Kelly's' Creek.
It is thought to be the creek where the final killing of Sergeant Kennedy by the Kelly's' occurred on 26 October 1878. Bill Denheld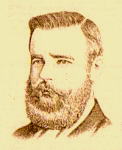 Sergeant Kennedy was the officer in charge of the Mansfield party to hunt for the Kelly brothers. Following the fatal shootout with Ned Kelly at Stringybark Ck where two police were killed, the Sergeants body was not found till five days later about 800 yards down the creek north. The exact spot was never marked. The quest to find that conclusive spot is not complete.



One may well ask why it is important to identify this site? With a major monument in honour for the three fallen police in the centre of Mansfield town, isn't it rather sad that nobody bothered to mark the actual sites where those events happened so long ago? While Constables Lonigan and Scanlan's tragic fate was at Stringybark Creek, Sergeant Kennedy is synonymous by all contemporary accounts with German's creek, and not Stringy Bark Ck, (SBC) but is that correct ?. It is important to identify the true historic sites, - if only in pursuit of truth and knowledge.

On 28 August 2004 and leading up to that time a small group ventured to locate the true site along Germans Creek, given that we accepted the site of the police camp 'bailup shooting' site was on the Eastern bank of SBC. We were, Tim Smith, Joe Dipisa, Bruce Johnson, myself and a few others.

Image below from "Pictorial History of Bushrangers, Paul Hamlyn 1966
Original image held by Victorian Police Museum - Historical Unit. Melbourne.
| | | |
| --- | --- | --- |
| | | |
The evidence. From careful examination, both these pictures have flat ground and gentle rising slope in the background, Both pictures have a ' light 'source from the left, indicating North. In the left picture, the trees are over exposed with light offering little shadow detail. However, the cloak over the body on the ground gives strong indications where the light source is a midday sun in a November's Northern sky. Note; the folds in left man's trousers, the light falling on his back show the light source coming from above left.

Picture above right. Researcher Tim Smith in a open natural clearing, examines a photo copy and notes - the similarities of the terrain. The original image (above left) was a re-enactment by FC Burman, (taken around the same time as the SBC police camp photo where Constable Lonigan was shot dead), and shows the actual tree near where the Sergeants body was found. It was reported the tree was between the body and the police camp (some 30 chains to 1/2 Mile North). If we analyse the light we can conclude, the scene depicted is the Eastern bank of a creek looking East, but if the tree was between the body and the camp, then the photo must be looking south westerly and the light coming from an eastern morning sun. Although photo (right), shows a clear opening on the east bank of Germans Creek, this site was first selected following descriptive texts as this article will spell out.

Some considerations;

In contemporary Kelly publications, we read that - the Sergeant's body was found on the other side of the Creek from their encampment ( McIntyre), this supports Kelly author Ian Jones who has the police camp on the Eastern bank of Stringybark Creek, The problem for Jones, if the body was found on the other side of the creek to the west and photographed looking EAST according to sunlight observed, then the North west is in close proximity to German's Creek and this is where the first search was focused. But no where in the Primary Sources does it say the body was found near German's Creek !

Primary sources -

Recorded at the time of finding the sergeants body;

Constable McIntyre's Manuscript Page37 quotes a telegram by Sub Inspector Pewtress within one week of the killings, 31 Oct 1878 ; "At 8 a.m. the body of Kennedy was found about a mile North East of the camp by one of the volunteers named Henry Sparrow the overseer of Mount Battery Station. Meaning Stringybark Creek.
McIntyre Manuscript Page 37- The body of Sergeant Kennedy had been found 8 o'clock that morning in the midst of some ferns over a quarter of a mile down the creek from the site of our encampment.

It is important to note the description of the site, Pewtress wrote "in the midst of some ferns".

G.W.Hall wrote; 30 chains ( = 660 yards). Hall actually visited the site and was the special Mansfield reporter - for the Melbourne Herald 5/11/1878. ( ten days after )

The Mansfield Gaurdian, Saturday 2 Nov 1878 only eight days later - reported
" The body was found about a quarter of a mile from the spot where the Police were camped, with his cloak thrown over him " -- He (Kennedy) was making his escape in the same direction that M'Intyre had taken " .

When the body had been found several of the search party were to make sworn depositions-.
First was Henry Sparrow who said the search proceeded in a North Westerly direction when he discovered Kennedy's body. "At about a quarter of a mile from the camp I discovered the body of Sergeant Kennedy, he was dead & lying on his back with a police cloak spread over his head and body. The spot was open for eight yards round about."

This may mean the search started N West of the camp but that Sparrow ventured over SBC to the eastern bank to find the body. This works when we read that McIntyre escaped on Kennedy's horse first travelling North then headed west - tracks which Kennedy followed.

James Tomkins, President of the Mansfield Shire Council - who was present to previous unsuccessful attempts to find the body stated a new lot of volunteers was organised by Supt Sadlier,
" Next morning at about 5 o'clock we proceeded to the camp at Stringy Bark Creek, where the police murders took place. At my suggestion, the party proceeded in the direction of Cons. McIntyre's tracks. ( to the North of the Camp) At about half a mile from the camp I heard Mr Sparrow call out - here is something. I, with the rest of the party went to him and saw the body of Sergeant Kennedy which I identified. I then rode into Mansfield & reported the matter to the Police."

Mounted Constable Thomas Orr stated " on arrival at the (police) camp the party scattered about to search in a North Easterly crossed out and rewrote westerly direction.

What does this tell us? Two men, Sparrow and Orr - say they started the search in a North Westerly direction from the police camp, when Sparrow came across the body of Kennedy.
While three men, McIntyre, Pewtress and Tomkins say the body was found North or North East of the camp.
It should be mentioned that McIntyre said Kennedy's body was found North of their encampment - meaning Stringy Bark Creek. He also said Kennedy's body was found on the other side of the Stringy Bark Creek (SBC) from where Scanlan was shot and fell ). Currently, we have concluded that the Police camp was in fact on the Western bank of SBC at the site of the TWO HUTS some 200 metres South of the Kelly tree. We also now have a fair idea where Scanlan fell in relation to the two huts site (on the western bank of SBC). It now makes sense that the Sergeant Kennedy's body was found North EAST of SBC and not Germans Creek.

So, by all this we have not yet properly identified Sergeant Kennedy's site of death?
It is important to note the description of the site,

Pewtress wrote " in the midst of some ferns "
Sparrow wrote - " The spot was open for eight yards round about."
The spot we are looking for along a creek is an open space of about eight yards (or metres) round about - surrounded by ferns, and that is exactly what we looked for along the entire length of Germans Creek in 2004. Taking into account the distances recorded at the time, there were only 2 sites along the East bank of Germans Ck that fitted both distance and description. The site chosen in 2004 was N. West of the Two Huts site and is pictured lower down this report.
<![if !supportLineBreakNewLine]>____________________________________________

<![endif]> <![if !supportLineBreakNewLine]> Some background and recent analysis on forums-

I table the following explanation <![endif]>
<![if !supportLineBreakNewLine]> Around August 2010, KC2000 forum had a thread posted - ' Location of Kennedy's body at German Creek' - started by Kenny T - <![endif]> http://kellycountry2000.forumco.com/topic.asp?TOPIC_ID=1006 In this short lived forum topic debate, KennyT proposes the finding of Kennedy's death spot has great bearing on the true location of the Police camp.

By this time there had already been seven separate forum thread starts about SBC with the longest running to thirteen pages with well over 340 postings more than 13.000 reads before being ruined by heated - disgruntled participants who no longer wanted rational debate. I was apparent their motive was to swing the argument in favour of the Kelly tree location instead of all the evidence pointing to the two huts site.
See - http://www.ironicon.com.au/newforum/sbcnewsandviews1.htm This thread lasted some fourteen months.

A recent series of postings on KC2000 started <![if !supportLineBreakNewLine]> by Kelvyn Gill see <![endif]> http://kellycountry2000.forumco.com/topic.asp?TOPIC_ID=1347
This one on finding Kennedy's body. It should be noted since this link to KC2000 forum was posted here, forum admin decided to close to the public so only forum members can see it.
One then wonders how serious their research really is and how committed they are ?

However, if the forum is open, then see postings dated 30/11/12 by MX12 previously was '1878' who was previously SoapBox - who had been previously 'Admin11 the forum moderator' ? Their series of postings by one or some who wants to change pseudonyms everyday is bizarre.

Whoever he or 'they' are is some sort of entertainment to us readers, but in reality it is not that funny that there is distant debate taking place between several websites like feuding churches when there should be rational debate on one open forum, but this seems to be beyond them. This KC forum is a self appointed host to such debate but had decided to delete my membership ? But we will go along with this charade for now. Someone is trying to turn this serious subject into a fiasco.

There are now five pseudonyms on that KC2000 forum page but we can guess it is one person trying to tell us something. Lets listen to what he has to say. -

So far he has taken us on a map journey to suggest the starting point for the Sergeants body found was the Kelly tree site. All evidence shows photos taken at the time of the police camp 1878 cannot be taken at the Kelly tree because there is no slope in the background comparable to the Burman photo. So the Kelly tree site cannot be the site of the police camp, and as a starting point to find the Kennedy body site.

The poster, ( or impostor) he shows us maps with references to North West and North East as being exactly 45 degrees from North. In fact this is very flawed. We will go along with their goofy pretence that something intelligent may come of this ?

In the historical evidence we should say North East can mean the whole Quadrant NE. In reality no hard and fast single line of degree angle such as 45 degrees is correct when referring to NE, rather NE could be anywhere between ,say 110 to 160 degrees N.East. ( see my map below)
And further , this Admin wants to use the shortest distance recorded of about 400 yards which is with one exception mostly secondary source material, while 'Primary source' material tells us 30 chains = 660 m and 1/2 mile = 806 metres. What this means is that nobody actually ran out a tape measure.

Lets just say we need an intelligent discussion to determine where the most likely place is where the Sergeant died. More importantly we need to consider the only photo of the place where a body was found, and with the rest of the descriptive texts such as, " an area (flat) about 8 yards round about surrounded by ferns " looking due south as the tree in the photo was between the body and the police camp.

Kelvyn, when you find such a site some 400 yards North East or north of the site of the two huts or the Kelly tree please let me know and I will drive up to meet you there for a formal agreement of the true identified site.

In the mean time please take a look at the following article ( below) that was posted on the NEW Ned Kelly Forum (NKF), but even this forum admin decided this topic was too hot for its members to handle so he decided to deleted this topic altogether? So much for open debate! We now have a beige coloured forum in NKF where no one is allowed to debate anything too controversial, I was told. But what is controversial about this topic? One side is either right or wrong, and I am prepared to make my conviction public, unlike others who hide behind their pseudonyms in case they are wrong. Lets get on with it, and if I am wrong I will be the first to admit I am wrong, but first show me where I am wrong.<![if !supportLineBreakNewLine]>
Bill Denheld 6th Dec 2012<![endif]>
<![if !supportLineBreakNewLine]>
In response to Kelvyn Gills group I post the following article that was on the NK Forum, but was deleted - <![endif]><![if !supportLineBreakNewLine]>

<![endif]>

Map showing roads and creeks around SBC and the most likely areas where Kennedy fell.


http://www.pixmaker.com.au/twohuts/images/kennedysearchspotmap.jpg

Subject - Locating Sergeant Kennedy's Body- N. East of Stringybark Ck

To all Kelly researchers.

The spot where Sergeant Kennedy finally died after the shoot out with Ned Kelly at StringyBark Creek has remained unsolved. At KC2000 Forum, thread 'Locating Sergt Kennedy's body' Kelvyn Gill is putting forward their 'new discovery' to suggest that the Sergeant's body was found along StringyBark Creek and not Germans creek. see
http://kellycountry2000.forumco.com/topic.asp?TOPIC_ID=1347

Kelvyn Gill and author Linton Briggs "CSI@SBC The Report" sets out to claim the Police camp of 1878 was near the Kelly tree on the western bank of StringyBark Creek and hope their scenario will stack up by having the Sergeant's body found on the North Eastern side of SBC. In a nut shell, on KC2000 forum, Kelvyn Gill is posting his preferred scenario as if this has not previously been considered. I had already published this during Aug 2004.

At that time, a small group that included Tim Smith, Joey Dipisa, Bruce Johnson of KC2000 Forum fame, had already researched this same information that pointed to the North East of StringyBark Ck (not westerly) as a most likely place where the Sergeant was finally killed by Ned Kelly. See http://www.denheldid.com/twohuts/germanscreek.html
In our 2004 (above) web page publication we decided to weigh up all the evidence using combined Primary and Secondary sources which when put together lean towards the North West side of SBC just as Ian Jones and Keith McMenomy in their books suggested. However this was when we still believed the police camp was on the East bank of SBC.

We can now be sure the police camp was at the Two huts site as evident by the following Burman photo 'slope', the two huts fireplaces, placement of the Bridle track, the finding of a Spencer rifle bullet recovered from the soft creek swamp 30 metres from the two huts - all solid evidence. Also McIntyre said Kennedy's body was located on the opposite side of SBC creek from where Scanlan's body had fallen. Just immediately north of the two huts is a swampy flat that would have, could have been flooded at that time - would show horse tracks crossing the creek/swamp when Const McIntyre escaped on Kennedy's horse. Mc said after mounting the horse he headed north for several hundred yards (or metres) before heading due west.

Seconds later Sergeant Kennedy also trying to escape, and according to McIntyre Kennedy followed his horse tracks northerly. The search for Kennedy's body lasted several days mostly searching to the North West of the camp, probably because McIntyre had said he headed due west. A search party member named Tomkins suggested they try a different search pattern this time. From the camp, a group of about 25 spread out along 50 yard lines and about half a mile (806 metres) when a man named Henry Sparrow called out " Here is something' Here it is" Sparrow had evidently crossed SBC because in his first telegram sent by Sub Inspector Pewtress to Melbourne read the body was found North East of the camp.

It now remains the objective to find that exact spot to the north east of Stringy Bark Creek.
Either way, North West or North East scenario works from the two huts site because the creeks swampy ground immediately to the north of the two huts would clearly show horse tracks crossing the creek heading north. To cross the creek at or near the Kelly tree would mean a horse track would first head East then North.

The confusion regarding German's Creek may have started with Ian Jones's East bank police camp site scenario. Also, a reconstruction photo of the Sergeants death site by photographer Burman shows the light coming from the upper left of the picture indicating North, so we concluded that the picture was looking East. However, early primary sources said the big tree behind the body was between the camp and the body. - Meaning, the picture was looking South Westerly with the light coming from an early morning eastern sun.

If, as proposed by Kelvyn Gill and his CSI@SBC team that the police camp was near the Kelly tree, then if the primary sources by Tomkins and McIntyre are to be believed stating that the body of Kennedy was found 1/2 a mile from the camp, then if the Kelly tree is the starting point, then 1/2 mile or 806 metres or 1 mile 1612 metres, - would be way across Ryans Creek that StringyBark Ck runs into.
Bill Denheld November 2012
<![if !supportLineBreakNewLine]> ___________________________________

The following information was our search along Germans Creek in 2004,
but this is not conclusive if we take all the evidence into account.

<![endif]><![if !supportLineBreakNewLine]> What we are looking for is a relatively flat bit of ground as shown in images below.
We don't believe much would have changed here in the past 134 years.<![endif]><![if !supportLineBreakNewLine]> ( as of 2012)<![endif]><![if !supportLineBreakNewLine]>

<![endif]>Below, Tim Smith considers this site on the eastern bank of Germans Creek, and by all descriptions the clear area is typical of the area we are looking for.<![if !supportLineBreakNewLine]> <![endif]>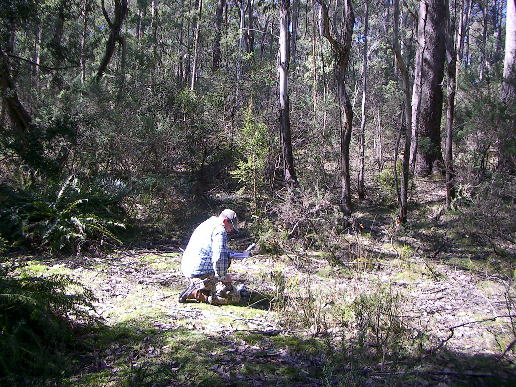 <![if !supportLineBreakNewLine]> Note; this clearing fits all criteria. It is 8 yards round about, in the midst of some ferns even today. <![endif]>
Following is a record of most ( if not all) references to the finding of Sergeant Kennedy's body circa 1878 including recent publications.<![if !supportLineBreakNewLine]>
<![endif]>
From the secondary sources - records of later publications,
a guide to where the body of Sergeant Kennedy may have been found ;

Outlaws of the Wombat ranges by- G. Wilson Hall, 1879
Page 32 SLoV* transcript, or ( Page 29 Brian McDonald's edition)- Outlaws--
G.W.Hall wrote; 30 chains ( = 660 yards). Hall actually visited the site.
Page 35 SLoV* transcript, or ( Page 31 of Brian McDonald's publication of Hall) -, headed due west. It also says Kennedy followed similar route but at a slightly different angle. ( May mean North first then due west as Mc said) * State Library of Victoria.

In McIntyre's Manuscript – courtesy Police Historical Unit - 24 years after the event
Mc say's he, jumped on Kennedy's horse he headed North. He also said he headed due west.
Page 37 telegram by Henry Pewtress wrote -
the body was found about a mile North East by a volunteer Henry Sparrow.
On the same page - The body had been found 8 Am in the midst of some ferns over a 1/4 mile down the creek from the site of our encampment. ( Meaning SBC)

J.J. Kenneally, Inner History of the Kelly Gang 1929 -Page 59 " a farmer Tomkins crossing 'Stringybark' came across the body 1/4 mile from the police camp."
Tomkins was the President of Mansfield Shire.

Book, Colonial doctor and his town, by J Gillison 1974 states the son of doctor Samuel Reynolds- Willy Reynolds being in the search party states -body found 400 yards from the camp.

Keith Mc Menomy's 1984 book says,- " the body just North* of German's Ck- about a quarter of a mile North West. The spot was open for about 8 yards around about. We had not gone 30 chains when a young man Sparrow sang out - Here is something, here it is".
*The 2001 edition only says North west.

Ian Jones writes; in 'A Short Life', Page 137 and 2nd edition Page 122,
" Ned crossed German's Ck and started up the flank of its gully".

___________________________________________________________________

Here are some scales

1/4 Mile = 440 yards is about 403 meters - McIntyre, McMenomy book, JJ Kenneally book
1/2 Mile = 880 yards is about 806 metres Tomkins
1 Mile = 1760 yards is about 1612 metres Pewtress
30 chains = 660 yards 604 Metres. This is more than 1/3 but less than 1/2 mile. McMenomy

Contradictions ; McIntyre's Manuscript is rather contradictory as it infers the body was found on Stringybark as he writes; a 1/4 mile down the creek from the site of our encampment. This means the body was found on Stringybark Ck? Even the telegram by Henry Pewtress tells us a mile North East ?
MAY this BE CORRECT ?

In J.J. Kenneally's book, P 59 farmer Tomkins "crossing Stringybark Creek came across Kennedy's body a quarter mile from where McIntyre had sworn he had surrendered". As co writer of J.J.K's book, Tom Lloyd would have known the true location where Kennedy's body was found. To find the spot we have identified at German's Ck you would definitely have to cross Stringybark if the police camp was on the Eastern bank , but not across German's Ck as Jones suggests. No doubt.

Conclusions ;
In all the original texts nowhere does it say crossing German's creek. Nowhere in any of the original text does it say the body was found on the other side of German's Creek except in Ian Jones and in Keith McMenomy's books.

In J.J Kenneally's book The Inner History of the Kelly Gang, refers to crossing Stringybark Ck. before finding the body. This again supports searching N.West if the police camp was on the Eastern side of SBC.

Some may conclude Sergeant Kennedy's body was found at German's Creek because McIntyre claimed Kennedy followed his direction of escape - due west, he also said North, perhaps meaning he headed due west after first heading North. In fact the spot we have identified at Germans Creek is North West approximately 670 meters or 30 chains from the police camp at Stringybark Creek. McIntyre was present for the search of the Sergeant, so his account has to be believed.
Ned Kelly's account, - Dan went to the creek to get some water for the Sergeant to drink. In our scenario, the creek would have been immediately behind where the Burman /Kennedy photograph was taken.

German's Creek investigation

When we were looking for the most likely site, we began by looking for a site North of Germans Creek (as McMenomy tells us). This turns out to be a conundrum as Germans Creek runs North South, so how could a site be north? We did find a major tributary that runs west from Germans Ck, so it could be possible to say there was a northern side to that tributary.
Image below Joe Dipisa searches the West bank of German's Creek 2004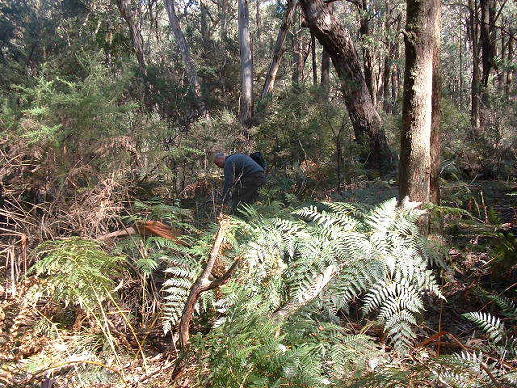 In this spot we are about the right distance on the West bank of Germans creek looking West, Notice the light comes from the Right hand side of the picture which is contrary to the original Burman photo with light coming from the left hand side. This light orientation reveals the spot above or any other on the west bank to be wrong.

<![if !supportLineBreakNewLine]> Pictured below, This site is the larger of two selected. The depression in the ground is where we believe a giant Gum tree similar to that shown in the original picture could have stood stood and possibly where the Sergeant was killed ?
<![endif]>




<![if !supportLineBreakNewLine]> We can never be certain, however, this depression today forming a puddle could well be where a rotted tree stump had stood. The big tree would have been saw milled during 1930's by the Mc Cashney's Kellys Creek sawmill which was nearby. <![endif]> <![if !supportLineBreakNewLine]>

<![endif]>

Click here to see Virtual tour Panorama of Germans Creek

Picture below, 23 October 2004, almost 126 years after the fatal shooting of Sergeant Kennedy by Ned Kelly, a party of Kelly researchers gathered at Stringybark reserve for a guided walk-in to German's Creek. With no walking tracks it is hoped a trail will be marked so visitors will be able to examine these potential sites for themselves.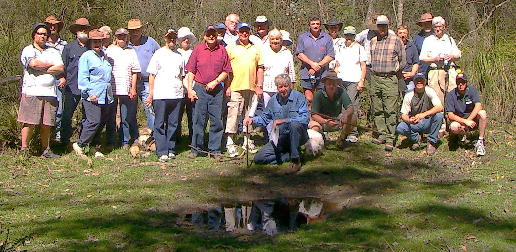 Out front is myself, from left persons 3 and 4 Gwenda and Arthur Marsh,
persons 6 and 7 Russell and Wendy Walker of Tolmie.
persons 8 &10- Sally and Ben Dykstra.....

The Germans Creek site can be found by walking back down Stringybark Creek road (from the Picnic Reserve) for about 100 meters. A large tree on the right hand side of the road has been chopped a little at head height, stop here, turn (90 degrees) to be facing West. Set your compass West and walk straight into the bush for about 400 meters, checking your bearing west as you go. You will come to German's Creek. At the creek turn right and walk down stream till you reach a largish natural clearing. The possible spot is near the junction of a western tributary where the two waters form one flow. There is a small pile of stones, the start of a Cairn.

GPS way points ; http://www.pixmaker.com.au/twohuts/images/stringybarkckgps2004.jpg
Germans Ck Cairn site ;
55h0428010 5918962 (epe 7 meters.)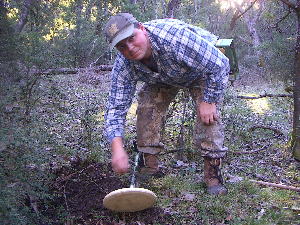 Kelly researcher Tim Smith pictured,
used his instrument to locate the site at German's Ck. GPS allowed us to know how far into the bush we had travelled, an impossible task with only a compass.
Numerous other spots were considered till all the evidence pointed to the established cairn site.
Here Tim detects for bullet lead at Kellys Creek .



Copyright ,, no text or images may be reproduced without
written permission from the author Bill Denheld. Copyright



The back ground image is of Kelly camp circa 1883