When architect Penleigh Boyd and myself considered to design the new proposed Ned Kelly interpretive visitor centre at Glenrowan, we got rather excited. Our intent and efforts are purely to assist the promotion of a Ned Kelly Centre at Glenrowan. All design and concept work has been done on a voluntary and goodwill basis. The work shown and described is copyright and is the intellectual property of Penleigh Boyd and Bill Denheld.

Proposed Ned Kelly Centre Glenrowan
A concept building for consideration-
By Penleigh Boyd and Bill Denheld

The Spirit:
Our aim has been to produce a bold, gimmick free, truly Australian building.
It should be modern. minimal, timeless in style and straightforward.
It should not be distracting, stylised or a pastiche of the 1880's.
The use of a simple palette of all Australian materials; glass, iron, new and recycled timbers, flagstone paving are envisaged.

The building should be serene - a place for contemplation - yet stimulating to encourage interest. There is a dichotomy in the Kelly legend ; hero or villain?
The building functions like a courthouse; here is all the information - you, the visitor, weigh up the evidence.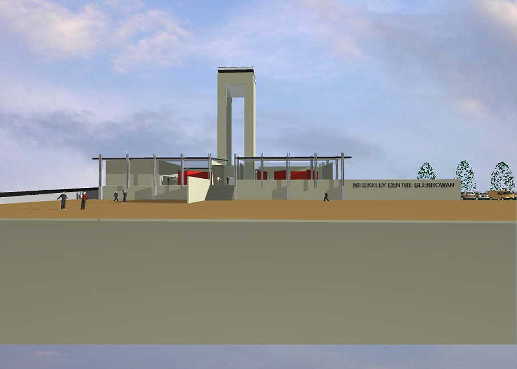 Proposed view from Gladstone Street with overpass on the left. Large forecourt in front and car parking under the front half of the building to minimise impact and footprint on the siege site precinct. Cars seen to the right will not actually be seen.




Proposed view from Siege Street with siege precinct in the foreground ( to be restored back to 1880's period), tree stumps, broken branches, drainage channels.
Note; overpass on the right with trains passing under part of the building, the viewing window on the right and a sunny restaurant on the left.

The concept:
The concept can be summarised into three key ideas;
1. Siting of the building over the rail tracks.
2. Treating the building as four interlinked pavilions - not one container.
3. Providing a lookout tower.



Proposed upper floor plan.

The lookout tower has lift access from the carpark below to the top viewing platform to take in the local tourist destinations and all Kelly related places. The viewing window looks out over the siege site as does the balcony. The four pavilions can be seen as one for each member of the gang, Ned, Steve, Joe and Dan. It is envisaged the tower be no less than 26 metres, one metre for each of Ned's short life. The lift in one leg and stairs in each column.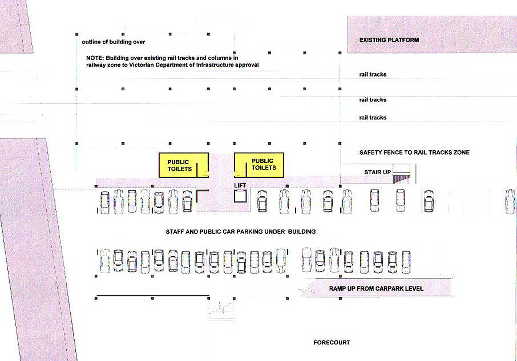 Proposed lower floor plan.

View of the lower level carpark area with public toilets shows rail tracks under the front pavilions, Lift, walk ramp and stairs- access front and side entrances.

View proposal at www.nedkellycentre.com

© copyright Penleigh Boyd and Bill Denheld
Penleigh1@bigpond.com and bill@denheldid.com