Preliminary draft for StringyBark Creek documentary.
Bill Denheld April 2015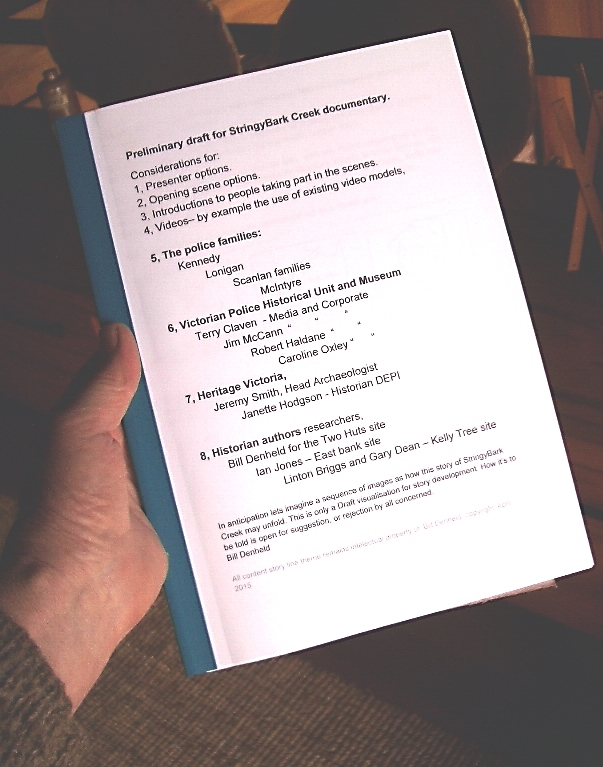 Preliminary draft for StringyBark Creek documentary.
Considerations for:
1, Presenter options.
2, Opening scene options.
3, Introductions to people taking part in the scenes.
4, Videos– by example the use of existing video models, to set
the scene.

5, The police families: Kennedy, Lonigan, Scanlan and McIntyre families

6, Victorian Police Historical Unit and Museum, Terry Claven -
Media and Corporate, Mr Jim McCann, Mr Robert Haldane, Ms Caroline Oxley

7, Heritage Victoria, Jeremy Smith-Head Archaeologist, Janette Hodgson -

8, Historian authors researchers, Bill Denheld for the Two Huts site,
Ian Jones – East bank site, Linton Briggs and Gary Dean – Kelly Tree site
In anticipation lets imagine a sequence of images as how this story of StringyBark Creek may unfold.

This is only a Draft visualisation for story development. How it's to be told is open for suggestion, or rejection by all concerned.
Bill Denheld


All content story line theme remains intellectual property of Bill Denheld.
C
opyright
April 2015